Successful tour of the United Kingdom with Eva Ollikainen and Sir Stephen Hough
Iceland Symphony Orchestra is back home from a successful tour of the United Kingdom. The Orchestra gave a total of seven concerts in seven cities at some of the foremost concert halls in the UK including Cadogan Hall in London, Symphony Hall in Birmingham, Bridgewater Hall in Manchester and Usher Hall in Edinburgh. The orchestra performed for nearly 9.000 guests and has received high praise from critics in the British media.
Behind the scenes before a sold-out concert at Cadogan Hall in London.
Eva Ollikainen, Iceland Symphony's Chief Conductor, conducted the concert and soloist was British pianist Sir Stephen Hough who is considered one of the most respected and versatile pianists of our time.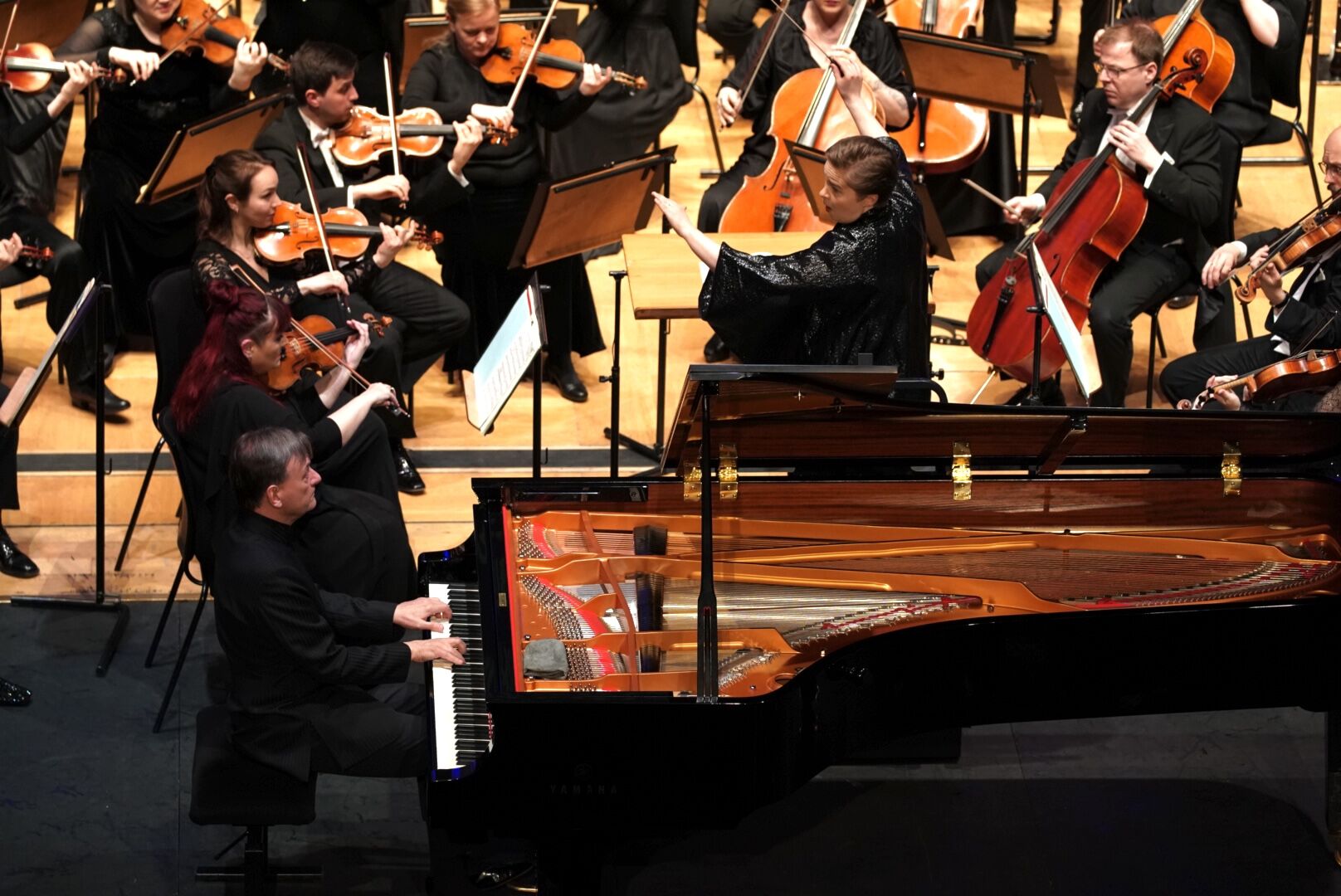 Conductor Eva Ollikainen and soloist Sir Stephen Hough
The orchestra performed METACOSMOS, a new work by Anna Thorvaldsdottir, Composer-in-Residence at all concerts. Other works included Rachmaninov's Piano Concerto No.2, Beethoven's Piano Concerto No. 3 and Tchaikovsky's Symphony No.5.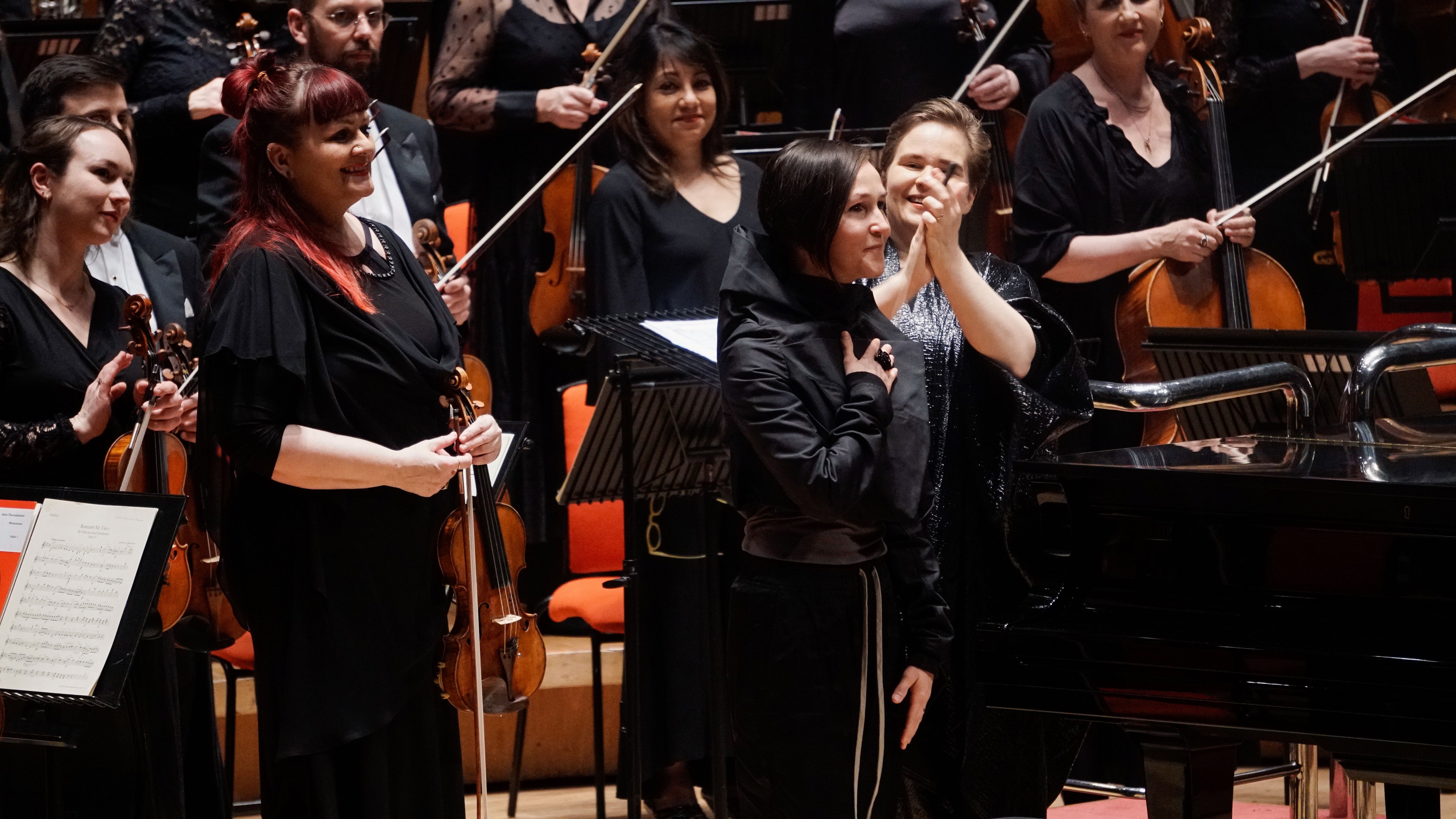 Anna Thorvaldsdottir Composer-in-Recidence
ReviewsGate critic William Ruff gives the Iceland Symphony's concert at the Royal Concert Hall in Nottingham five stars and says:
"Iceland may be a small island but it produces big-hearted music-making. Iceland punches well above its weight when it comes to classical music. The island's total population is barely half that of Nottingham's urban area and yet it can field a world-class symphony orchestra attracting top soloists such as Wednesday's star pianist, Sir Stephen Hough."







Seen and Heard International reviews the Iceland Symphony's concert in Basingstoke:
This concert – [...] was the best attended that I have seen there since the Covid pandemic. A large and enthusiastic audience were treated to a concert of fine musicianship and technical skill. In recent years the Iceland Symphony Orchestra, via a series of recordings on major labels, has emerged as a highly competent orchestra so this was an interesting opportunity to hear them live. They performed under their enthusiastic and energetic principal conductor Eva Ollikainen to which post she was appointed in 2019.




From The Herald Scotland about the concert in Edinburgh:
"Edinburgh audiences can be reserved, but this afternoon there was a sense of anticipation as if everyone knew in advance what terrific performances they were about to hear.


[Metacosmos] was played by the Iceland Symphony Orchestra under the guiding hand of conductor Eva Ollikainen, who commanded the rostrum with the energy and elegance of a prima ballerina. This was followed by Rachmaninov's Piano Concerto No.2, of Brief Encounter fame, with Sir Stephen Hough at the keyboard. At its conclusion heels were drumming as he was applauded to the rafters.

It seemed things could not get more thrilling, but the vivacity and charm with which the orchestra played Tchaikovsky's fifth symphony proved us wrong. By the time we spilled out into a chilly Edinburgh evening, it was as if we had fleetingly been allowed into another world." – Rosemary Goring