Iceland Symphony Tours Japan
The Iceland Symphony Orchestra will embark on a concert tour of Japan in November. This will be the first time that the orchestra performs in Asia. The tour will consist of concerts in all the major cities, including Tokyo, Kyoto, Sapporo, and Hamamatsu, and most of the concerts are already sold out. The conductor will be Vladimir Ashkenazy, the Iceland Symphony's Conductor Laureate, and the soloist will be the Japanese piano star Nobuyuki Tsujii. The entertainment company Avex Group produces the orchestra's concert-tour in Japan.
The programme will consist of Gletscherlied by Þorkell Sigurbjörnsson, Piano Concertos no. 2 by Chopin and Rachmaninoff, and Symphonies no. 2 by Sibelius and Rachmaninoff.
On October 25th the Iceland Symphony will warm up for the Japan tour with a concert featuring one of the programmes the orchestra will perform in Japan. Read more.
Concert Tour Itinerary
   November 3 »  Kawasaki  // Muza Kawasaki Symphony Hall
   November 4 »  Hamamatsu // Act City Hamamatsu
   November 6 »  Sapporo // Sapporo Community Plaza
   November 8 »  Tokyo // Tokyo Opera City
   November 9 »   Hiroshima // Bunka Gakuen HBG Hall
   November 10 »  Fukuoka // Acros Fukuoka
   November 11 »  Osaka // Festival Hall
   November 13 »  Nagoya // NTK Hall, Forest Hall 
   November 14 »  Okayama // Okayama Symphony Hall
   November 16 »  Tokyo // Tokyo Metropolitan Theatre
   November 17 »  Tokorozawa // Civic Culture Centre Muse
   November 18 » Nagaoka // Nagaoka Lyric Hall
Vladimir Ashkenazy, conductor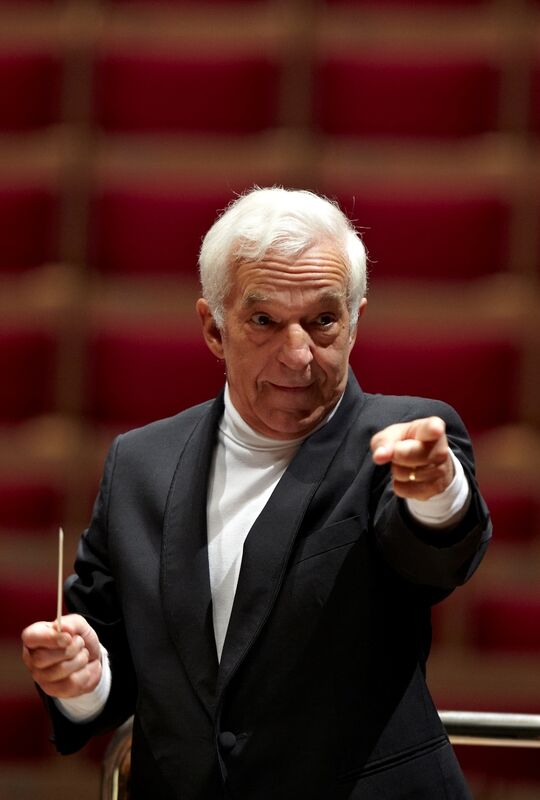 Vladimir Ashkenazy holds the position of Conductor Laureate with the Iceland Symphony Orchestra and has conducted the orchestra regularly since the early 1970s.
In the years since Vladimir Ashkenazy first came to prominence on the world stage in the 1955 Chopin Competition in Warsaw he has built an extraordinary career, not only as one of the most renowned and revered pianists of our times, but as an artist whose creative life encompasses a vast range of activities and continues to offer inspiration to music-lovers across the world.
Conducting has formed the largest part of his activities for the past 20 years and, following on from his period as Chief Conductor of the Czech Philharmonic 1998-2003, Ashkenazy took up the position of Music Director of NHK Symphony Orchestra in Tokyo in 2004. In Autumn 2005 he completed his second highly successful European tour with them. Their regular work in Tokyo has included several television broadcasts and special programmes, such as a commemoration in Spring 2006 of Toru Takemitsu, a composer whom Ashkenazy greatly admires. After a short visit to Seoul in June 2006 they undertook a major tour of the United States including Walt Disney Hall in Los Angeles, San Francisco, Philadelphia, Boston and Carnegie Hall in New York.
Ashkenazy also holds the positions of Music Director of the European Union Youth Orchestra, with whom he tours each year, and Conductor Laureate of the Iceland Symphony Orchestra. He maintains strong links with a number of other major orchestras with whom he has built special relationships over the years, including the Cleveland Orchestra, San Francisco Symphony and Deutsches Symphonie Orchester Berlin as well as making guest appearances with many other major orchestras around the world.
Nobuyuki Tsujii, píanisti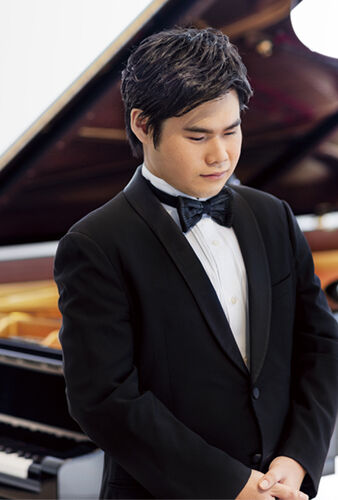 The Japanese pianist Nobuyuki Tsujii (b. 1988) is one of Japan's great piano stars. Blind since birth, he has remarkable facility and musical insight, and is able to learn even the most complicated scores by ear. Nobu (as he is generally known) began piano studies at the age of four and first appeared with an orchestra at the age of 10. He received the critics' award at the Chopin competition in 2005, then only 17 years old, and won gold prize at the 2009 Van Cliburn competition. Van Cliburn himself was quoted as saying that Nobu's performance was "absolutely miraculous… truly divine."
Nobu has appeared with many of the world's leading orchestras, with conductors including Vladimir Ashkenazy who has been among his most devoted supporters. A DVD of Nobu's Carnegie Hall debut in 2012 was named DVD of the month by Gramophone magazine, and he has recorded many bestselling CDs for Avex Classics. 
Concert Programmes
The Iceland Symphony will perform two different programmes while on tour in Japan. The first programme consists of Rachmaninoff's Piano Concerto no. 2 and Jean Sibelius' Symphony no. 2. The alternative programme features Chopin's Piano Concerto no. 2 and Rachmaninoff's Symphony no. 2. Both programmes will also feature Gletscherlied by the Icelandic composer Þorkell Sigurbjörnsson.
Listen to both programmes on Iceland Symphony's Spotify: